Solutions
DAV Taratala | DAV Public School Taratala, Kolkata: Admission Process, Fees, Facilities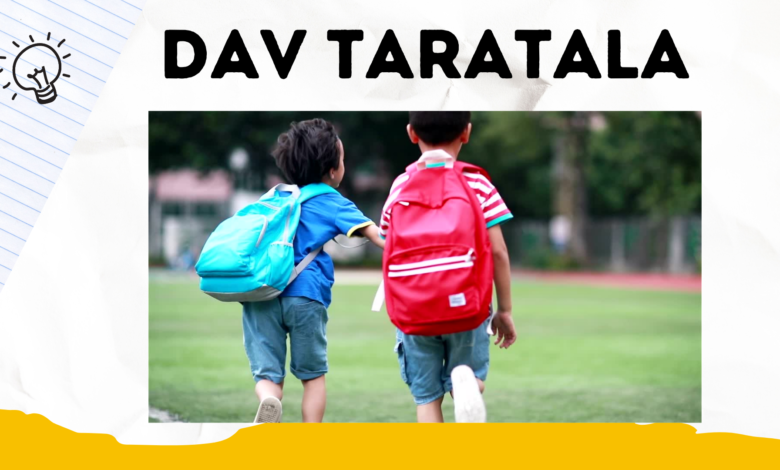 DAV Taratala, also known as DAV Public School Taratala, is a prominent educational institution located in the vibrant city of Kolkata. Established with the vision of providing quality education, the school has been catering to the academic needs of students for several years. In this article, we will delve into the admission process, fee structure, and facilities offered by DAV Taratala, highlighting its commitment to nurturing young minds and fostering holistic development.
| | |
| --- | --- |
| Particulars | Details |
| School Name | Dayanand Anglo Vedic Public School, Kolkata |
| Location/ Address | 61 Diamond Harbour Road, Taratala, Kolkata, West Bengal, Pincode -700038 |
| Founded in | 1988 |
| Classes | Primary to Class XII |
| Recognised by | Central Board Secondary Education (CBSE) |
| School Code No. | 15588 |
| Affiliation No. | 2430038 |
| Type | Unaided/ Independent |
| Facilities | Physics Lab, Chemistry Lab, Biology Lab, Library, Junior Computer Lab, Senior Computer Lab, Sports Room and more |
| Contact Number | Telephone- 033-2396-1320 |
| Contact Email | davcal61@yahoo.co.in |
| School Official Website | davpublicschoolkolkata.co.in |
source: Google
Admission Process
The admission process at DAV Taratala is designed to be fair, transparent, and inclusive, ensuring that all eligible students have equal opportunities to enroll. The school typically opens admissions for various classes at the beginning of the academic year. Parents or guardians seeking admission for their children need to obtain the admission forms from the school office or its official website.
The school may conduct a written entrance test to assess the child's aptitude and academic readiness. For pre-primary classes, the focus is usually on interactive sessions to gauge the child's social and communication skills. Additionally, parents might be invited for an interaction with the school administration to understand the child's background and aspirations better.
The admission criteria may also include consideration for siblings of existing students, alumni, and children of school staff, giving preference to their applications. The school's selection process aims to identify students who exhibit potential and align with the school's values.
Fees Structure
| | | |
| --- | --- | --- |
| Class | Tuition Fee Per Month (Rs.) | Annual Fee (Rs.) |
| I | 1030 | 8500 |
| II | 1530 | 8500 |
| III | 1620 | 9500 |
| IV | 1835 | 12500 |
| V | 1935 | 13000 |
| VI | 2065 | 15000 |
| VII | 2165 | 18000 |
| VIII | 1965 | 22000 |
| IX | 2475 | 25000 |
| X | 2475 | 27000 |
| XI(Additional Lab fee as per subject) | 1995 | 30500 |
| XII(Additional Lab fee as per subject) | 1995 | 31500 |
fee structure
DAV Taratala strives to provide quality education at a reasonable cost, ensuring that parents from various socio-economic backgrounds can afford it. The fee structure may vary depending on the class and facilities offered. It is essential to note that while the fees are designed to be affordable, the school maintains high standards of education, infrastructure, and faculty.
The fees at DAV Taratala may include tuition fees, annual charges, and other miscellaneous expenses. The school also offers various facilities and co-curricular activities, and the fees may cover these amenities to ensure a holistic educational experience for the students.
Scholarships and Financial Assistance
Recognizing the importance of inclusivity and providing opportunities for talented students regardless of financial constraints, DAV Taratala may offer scholarships and financial assistance. These scholarships are typically awarded based on academic merit, talent, or other criteria specified by the school management.
Facilities
DAV Taratala takes pride in providing a conducive learning environment for its students. The school boasts a modern infrastructure with spacious classrooms, well-equipped laboratories, a well-stocked library, and advanced audio-visual aids to aid the learning process.
To foster students' physical and mental well-being, the school offers various sports facilities, including playgrounds for cricket, football, basketball, and other outdoor games. Indoor sports and games are also encouraged to promote overall development.
The school emphasizes the importance of technology in education and may have computer labs with internet connectivity to facilitate computer education and research. Additionally, DAV Taratala might have interactive smart boards in classrooms to make learning more engaging and interactive.
The school's commitment to extracurricular activities is evident through its provision of arts and cultural facilities, such as music rooms, dance studios, and art and craft centers. These activities help students explore their creative potential and nurture their artistic talents.
Safety and Security
Ensuring the safety and security of students is a top priority at DAV Taratala. The school may have a well-trained security staff and a comprehensive surveillance system to monitor the premises. Additionally, the school maintains strict protocols for student pickup and drop-off to prevent any untoward incidents.
Faculty and Staff
DAV Taratala boasts a team of dedicated and qualified teachers who are passionate about imparting knowledge and shaping young minds. The faculty is selected through a rigorous process, and they undergo continuous professional development to stay updated with modern teaching methodologies.
Final Opinion
DAV Taratala, Kolkata, stands as a beacon of quality education, committed to nurturing students into well-rounded individuals. Through its transparent admission process, reasonable fee structure, and state-of-the-art facilities, the school continues to empower young minds with the knowledge, skills, and values necessary to excel in the dynamic world. By fostering academic excellence, promoting co-curricular activities, and ensuring a safe and supportive environment, DAV Taratala remains a preferred choice for parents seeking a holistic educational experience for their children.